Assassin Pre Workout
This is definetly an agressive stim pre workout. The aggresive pre workout type that is focused on giving you the energy, focus, confidence and motivation to crush your goals.
Apollon Nutrition Assassin Highlights
Pros
Intense focus
Extreme motivation
Good mood/feeling
Long-lasting energy
Cons
May need to stack it with a pump product
Those sensitive to yohimbine may experience jitters
ASSASSIN PRE WORKOUT V7 VS. V6
Some of the most significant differences between Assassin pre workout v7 and v6 are:
New ingredients in v7

300 mg DMHA (Juglans Regia Extract)
2.5 g Betaine Anhydrous
30 mg Noopept
2 mg Yohimbine HCL
75 mg Higenamine

Ingredients removed in v7

Theacrine
Isopropylnorsynephrine
DMAE

v7 has 2 g L-Tyrosine, 500 mg more than v6
v7 has 450 mg caffeine anhydrous + 150 mg di-caffeine malate yield, v6 had a 500 mg / 100 mg split
ASSASSIN PRE WORKOUT V7 INGREDIENTS LABEL
The ingredient label for Assassin Pre Workout v7 is below. It was unveiled on July 1, 2021.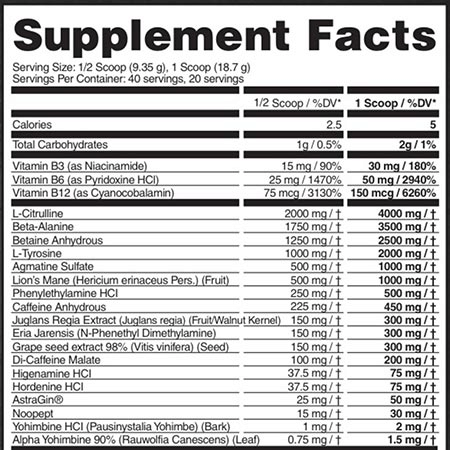 L-CITRULLINE – 4,000 MG
BETA ALANINE – 3,5000 MG
BETAINE ANHYDROUS – 2,500 MG
L-TYROSINE – 2,000 MG
AGMATINE SULFATE – 1,000 MG
LION'S MANE – 1,000 MG
PHENYLETHYLAMINE HCL – 500 MG
CAFFEINE ANHYDROUS – 450 MG
JUGLANS REGIA EXTRACT – 300 MG
ERIA JARENSIS – 300 MG
GRADE SEED EXTRACT – 300 MG
DI-CAFFEINE MALATE – 200 MG (150 MG YIELD)
HIGENAMINE HCL – 75 MG
HORDENINE HCL – 75 MG
ASTRAGIN – 50 MG
NOOPEPT – 30 MG
YOHIMBINE HCL – 2 MG
ALPHA YOHIMBINE – 1.5 MG
In terms of extreme pre-workouts, this is one of the strongest out there. This is the real deal and it's important to start at a minimum 1/2 scoop.
This is in our Top Pre Workout 2020 List
How Is This Different From The Others?
This is "crack-head" energy. This is a stim-heavy pre-workout that provides a rush of energy, focus, and aggression in the gym.
Is Assassin Pre For Me?
This depends on the dosage which can range from 1/4-1 scoop.
Most people may enjoy this at 1/4-3/4 of a scoop (assess if you are new to pre-workouts)
This is a stim junkies paradise at a full scoop